MEMBER AWARDS:
The Peggy F. Morton, Memorial Award for Teaching Excellence: This award, created under the 28th Watch, pays tribute to Stf/C Peggy F. Morton who passed suddenly in July of 2010. Peggy was one of five winners of the 2008 USPS national Chapman Award for Teaching Excellence. In honor of her achievement, each year CISPS recognizes those instructors who become our nominee for outstanding instructor with this award.
P/C Ed Shimansky, SN receives District 4's nomination for the 2017 Charles F. Chapman Award for Excellence in Teaching. National winners will be announced at the USPS Annual Meeting in February.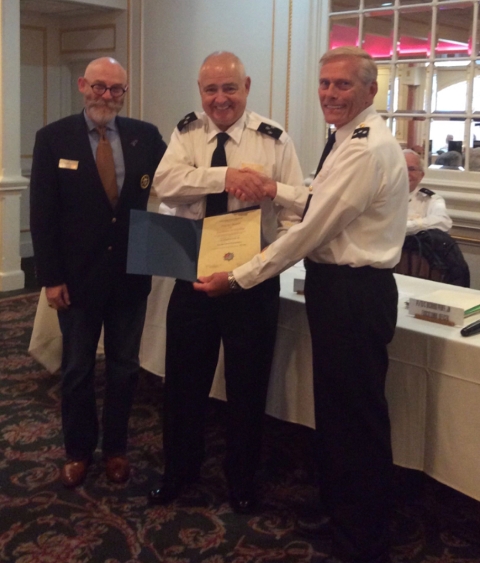 CISPS members congratulate and celebrate P/C Jeffrey Taylor, SN, 2016 NATIONAL WINNER OF THE CHARLES F. CHAPMAN AWARD FOR EXCELLENCE OF TEACHING at November General Membership meeting.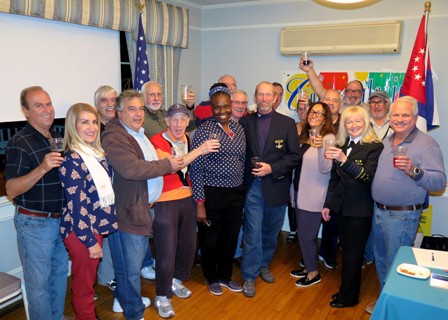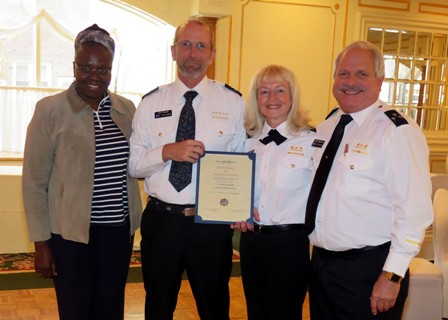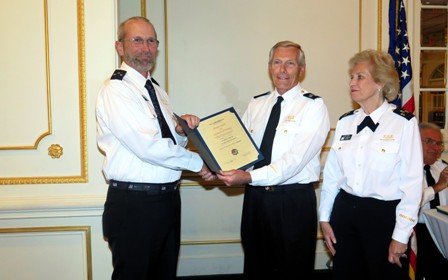 USPS 2017 Annual Meeting in Orlando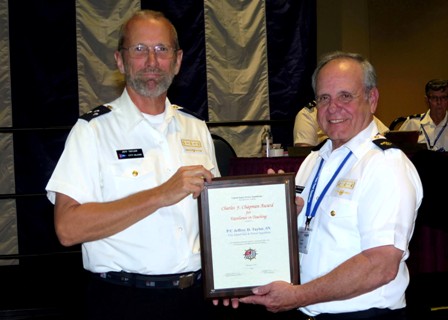 P/C Jeffrey Taylor - National Winner of the Charles F. Chapman Award for Excellence in Teaching and C/C Louis Ojeda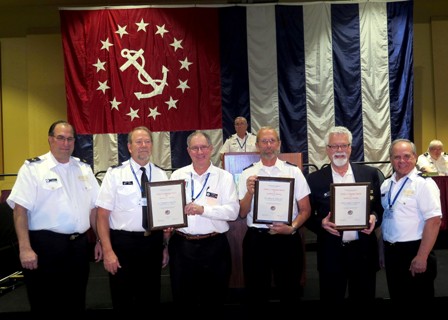 V/C Craig Fraser, 3 National winners of the Charles F. Chapman Award for Excellence in Teaching and C/C Louis Ojeda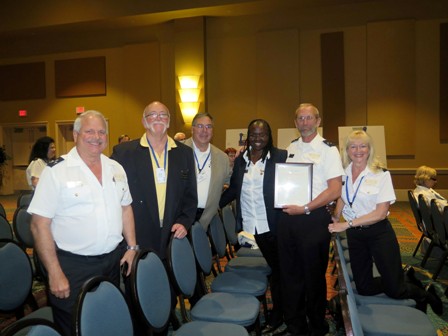 Celebrating Jeffrey Taylor! Gary Mandarano, Brian Kean (former CISPS member), Gary Bieniewicz, Susanna Taylor, Jeffrey Taylor and Barbara Mandarano
P/C Jeff Taylor, SN exemplifies the finest beliefs and traditions of USPS. He joined USPS in 1998 and in 18 years he has earned 17 merit marks. Since the day he joined USPS he has been driven to learn all that he can from the USPS educational programs and has been dedicated to on–water safety through education. He has taught the ABC course, the Sail course and in the last several years has been CISPS' Chairman of both JN and N. He holds a US Coast Guard Captain's license and has made 4-5 runs from NY to the Caribbean transporting sailboats for winter layover and then returning them back to their homeports in the late spring.
He has a love of the sea and its many traditions and is truly a dedicated teacher. JN and N are USPS' longest, and in many respects, the hardest courses to teach, but Jeff will run a course if there is a desire by even a single member to take it. In fact a few years ago after attending a holiday party at Westchester Sail & Power Squadron (a different district form ours), Jeff learned that several members were waiting years to take JN because they had no instructor. Jeff offered to teach the course for them and in fact ran the classes for months at his home. These members finally receive their JN thanks to Jeff's tireless efforts.
As an instructor Jeff is indefatigable, he will meet with students any time and any place, whether it is a 0500 for star sights or at night for a one-on-one help session to grasp some concept that they had difficulty with in class. His enthusiasm for and knowledge of the subject matter is contagious and motivates his students to excel. He is truly a person who represents through word and actions the USPS Educational Program creed.
Thank you Jeff for all you do for us!
SQUADRON AWARDS:
Distinctive Communicator Award/Website 2015

USPS Educational Fund Honor Roll/26th year 2015